Hey Youth – Check out what's going on this month!
Buy Concessions from our Youth at the FargoDome: (Sept 21)
The youth will be selling concessions at the FargoDome as a fundraiser to go to various youth events and also the National Youth Gathering in 2022. Upcoming dates include: Sept 21. If you are at an event at the FargoDome on that day, please look for our stand and purchase your concessions from the BSLC Youth.
District Jr. High Gathering: (Oct 17-19) ~ Registration Deadline Oct 6
Save the Date:
The Middle School Gathering "Forgiven" will be held October 17-19 at the Ramada Inn, Bismarck, ND. Activities include Bible time, devotional talks, concerts, games, a variety show and more. The guest Bible study leader will be Pastor Ben Griffin from Maplewood, MN. Ben is first and foremost a follower of Jesus. He is also a proud father of three teenagers. Registration fee is $175 (BSLC will pay half of the cost) and includes hotel room for 2 nights, plus meals on Friday, Saturday breakfast and 3 snacks. Registration form and deposit is due by October 6.
Click here
to print the Registration form.
Note: Students in grade nine and up are invited to serve as teen counselors. For more information, visit with Pastor Brian.
BSLC Stand Against Homelessness: (Oct 12-13)
Save the Date:
BSLC Stand Against Homelessness will be held Saturday Oct 12 – Sunday Oct 13.
All youth and their families are invited to participate. You are asked to sleep outside, fast for 24 hours, participate in service projects and learn more about the problem of homelessness in the community and the resources available. The event lasts from noon on Saturday, Oct 12 until noon on Sunday, Oct 13. Talk to Pastor Brian if interested. All church members can donate boxed cereals and canned goods.
Trunk or Treat: (Oct 30)
Save the Date:
Beautiful Savior will be having our annual Trunk or Treat event on Wednesday, October 30.
All BSLC families are invited to the church Wednesday, Oct 30 from 6:30-8 pm for Trunk or Treat. Preschool to fifth grade, come show off your costume and get treats in a fun, safe environment. Sixth grade through twelfth grade can sponsor a car and hand out candy from your trunk. Join us for this fun event!
BSLC Youth Working the Dome:
Thinking about going to the National Youth Gathering in 2022, future BSLC mission or youth trips? All Beautiful Savior youth age 13 and older can help work various events at the Fargo Dome to earn money for youth activities at BSLC. Visit with Pastor Brian for more information.
Youth Group for Grades 6-8: (Wednesdays)
All youth in grades 6-8, plan on joining us each Wednesday from 7:30-9 pm for (spiritual and physical) food, fun and fellowship. Hope to see you all there!
Youth Group for Grades 9-12: (Sundays)
All youth in grades 9-12, plan on joining us each Sunday from 5-7 pm for (spiritual and physical) food, fun and fellowship. Hope to see you all there!
Crossfire Youth Praise Band: (Sundays Sept-May)
Our youth praise band is in need of you! Crossfire is for any students in grades 6-12 who love to sing and/or play an instrument.
Practices are usually on Sunday evenings from
7-8 pm. If you have questions, call Ramsey Dahl at 866-5403 or come to the church on Sunday evening at 7 pm.
Confirmation Classes:
As a part of our education ministry, BSLC offers confirmation classes for students in seventh through ninth grades. If you have a child in one of those grades, please have them join us beginning Wednesday, September 4 at 6:15 pm.
Facebook Group Page for Youth and Parents:
The Beautiful Savior Youth have a Facebook Group Page to help keep parents and youth informed on all plans, events and fundraisers. Please "Join" our page. You can find our page by searching for "BSLC, Fargo Youth" and then click on the "Groups" tab. If you are having trouble locating our page, you can also click on the following link:
Youth Facebook Group
Instagram page for Youth and Parents:
Youth and Parents: Keep informed on events, activities and fundraisers, follow the "BSLC Fargo Youth" Instagram page!
Confirmation Picture Display:
Our Confirmation picture display is finally complete. However, if you have a good copy of any of the years that are printed as a 5×7 (not 8×10), please send the digital image to the church office – or bring in a printed version and we can scan it in and get an 8×10 made. Thank you to everyone who brought in class photos to help fill in our new Class Picture Display.
Harlan and Esther Wallum Scholarship Fund:
Are you thinking about where you or your children may go for college? Consider one of our LCMS universities. Grants are available to assist youth and adults who wish to begin or continue their education from an LCMS university or seminary. Applications are available in the church office.
National Youth Gathering Update: (posted July 25)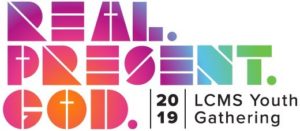 Ten youth, two adult leaders and Pastor Brian went to the National Youth Gathering in Minneapolis. They had a great time learning more about our Real. Present. God. The youth enjoyed hearing the speakers at the gathering speaking on topics of their own interest. They also enjoyed the mass event at night when more than 21,000 people gathered together to sing praises. Perhaps a tiny little glimpse of what will be in-store for us when we all get to sing together in heaven. Thank you for praying for us on our trip.
Shepherd's Hill at the Crossroads Summer Camps:
There are brochures in the narthex for those who would like to attend church camp. This year's theme at Shepherd's Hill at the Crossroads is "A Great Cloud". Some of the camps offered are horse camps, art camp, guitar camp and even an adult camp. Their website is
www.shretreat.org
.
Lutheran Island Summer Camps:
This year's theme at Lutheran Island Camp and Christ Serve Ranch is "Forgiven". There are great programs for all ages. Their website is
www.islandcamp.org
.
Do you have Pictures from Church Events?
If you have pictures from church events and are willing to share them, please let the office know. You just never know where we might use them… Thanks!